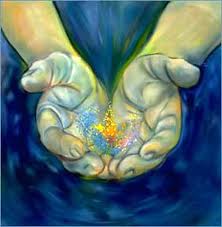 We all have buddha nature, or "the Christ Consciousness," but we are asleep to it. And when we are asleep, we think in opposites. Awake, there is only the Christ Consciousness. And if you think it is easy to wake up, you would be wrong. You have to stand alone against the whole world of opposites to gain entrance into the Kingdom of Heaven. Every student is tested endlessly. The tests arise from the opposition of ego to other egos.
That is the situation. The solution is to wake up. And to wake up, you have to die to your thoughts.
Words are useless in this process. Silent awareness is the goal. And this requires a deep humbling of the thought-self.
It is not enough to read the wise words of saints and sages. You must drop the division between you and them.
Hallowed ground must be tilled by intention.
You will reap the harvest when you have seen that all is well. Truly, that is the meaning of the human journey. To see that you have always been resting in the hollow of His Hand.
Vicki Woodyard